Contemporary Original Folk: Solo and with the Outlanders
With two releases over the past couple of years and an increasingly active performance schedule, Rosenbloom's songs are reaching wider exposure. Recently hailed as part of "the great tradition of the late 20th century poetic masters of song" (full review), he continues to combine an intense personal poetic vision with a melodic and vocal approach rooted in folk traditions.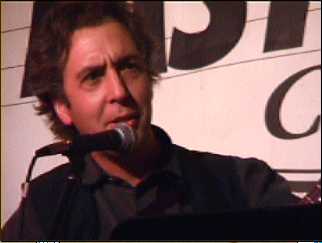 at the late lamented Fast Folk Cafe, 1999 - Norbert Nowotsch
The Outlanders - original and roots folk.
A changing group of musicians working with David Rosenbloom's songs. Current lineup: Rosenbloom (voice, acoustic & electric guitar, harmonica), David Hofstra (acoustic bass), Steve Moses (drums).

The original lineup of the Outlanders featured John Scherman on lead guitar, Lenny Kaye on pedal steel, and Ernie Brooks on bass, along with Rosenbloom and John Mernit. Dave Hofstra replaced Ernie, Lenny and John Scherman moved on, and, between the first 2 CD releases, Steve Moses replaced John Mernit on drums (with Richard Dworkin working in the studio on several tracks on the 2nd CD).
---
music samples online
upcoming gigs
press clips
---
CD releases on dark roots:
| | |
| --- | --- |
| Music Is | Mysteries |
| | |
---
Back to Trembling Veil Home Page

Back to The Artifactory Home Page